Dr. Emily Cugnet Huber
Chiropractor, B. Kin, ART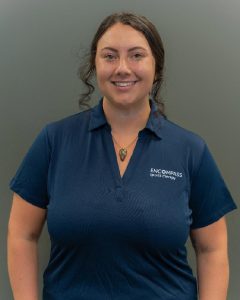 Dr. Emily is a recent graduate from Canadian Memorial Chiropractic College, but her journey at Encompass began as a receptionist during her undergraduate years while she completed her Bachelors of Kinesiology. Under Dr. Mike and Dr. Kate's guide, she is now returning as a chiropractor.
During her schooling, Dr. Emily's program trained her in Diversified Technique for full spinal adjusting, as well as adjusting techniques for extremities and other joints in the body. She has also been educated in Active Release Techniques, instrument assisted soft tissue therapy (IASTT), Thompson Technique, and is Webster Certified. Her internship year was extremely diverse, as she worked in two busy downtown Toronto inner city clinics. In addition to this, she completed a placement with St. Michael's hospital, and was chosen to participate in an outreach program in the Dominican Republic to treat underserved populations.
Dr. Emily's passions lie in treating patients of all ages, especially paediatrics and pregnant populations. She is a firm believer in empowering her patients in their health, and helping them make the proper choices to encourage a life where they thrive. Outside of chiropractic, Dr. Emily loves to practice yoga, read, and travel. You can often find her dancing her heart out and singing along to live music on her days off!