Vestibular Physiotherapy in Calgary
Vestibular physiotherapy is a specialized area of practice that involves the assessment and treatment of dizziness and balance impairments. At Encompass Sports Therapy, we have experienced specialists who can offer the best Vestibular Physiotherapy in Calgary
Vestibular Physiotherapy: Treatment & Benefits
Impairments to the vestibular system can result from inner ear dysfunction, infections, head trauma, medications, diseases, and more. Symptoms may include dizziness, vertigo, headaches, nausea, and visual impairments.
Our trained vestibular therapist will start the vestibular assessment by asking you questions about your dizziness and symptoms. They will then perform a comprehensive exam which will include the use of infrared goggles to assess your eye movements. This advanced technology allows the therapist to better identify the source of your dizziness, and create the appropriate individualized treatment plan.
At Encompass Sports Therapy we understand the impact dizziness can have on your function and day-to-day life. Treatment will always start with education, and may also include canal repositioning maneuvers, balance exercises, gaze stabilization exercises, habituation training, optokinetic stimulation exercises, IMS/ dry needling, and manual therapy.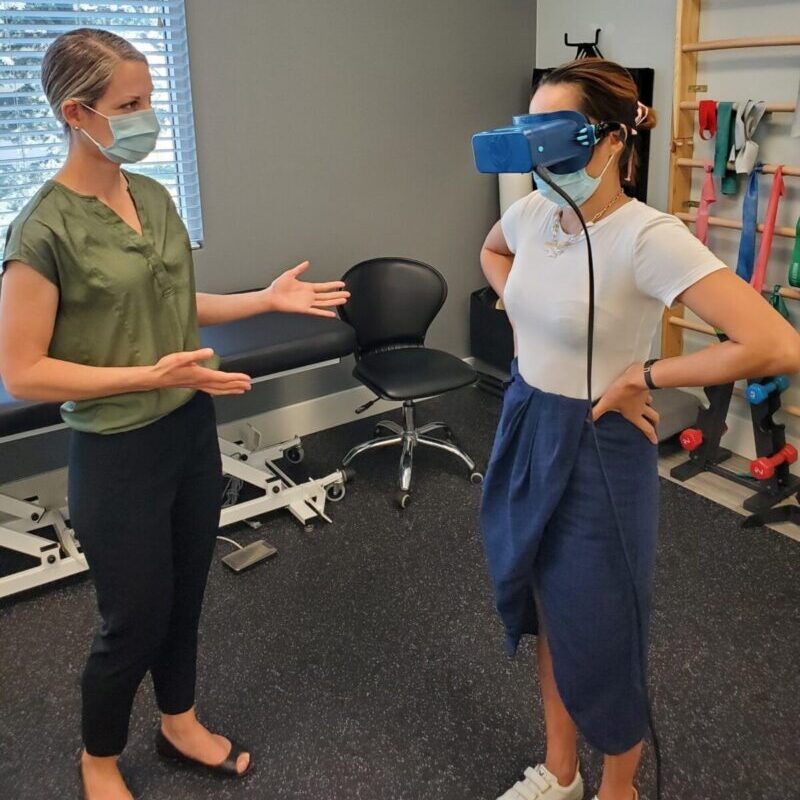 Conditions Treated With
Vestibular Physiotherapy

One-on-One Appointments

Direct
Billing

All-in-One Pricing

Longer
Treatments

Evening & Weekend
Appointments

2 Convenient
Locations

Class 4 Laser + Shockwave

Motor Vehicle
Accident Claims

Private
Rooms

Evidence Informed Therapies
Our Vestibular Physiotherapy Experts
"I highly recommend Renee Toxopeus for Physiotherapy. Thank you so much for your excellent care. I am feeling so much better now than when I started my PT. Although I hope I don't have to "visit" anytime again soon, it was such a pleasure. Your professionalism, concern and friendliness were much appreciated."
"Professional, considerate, highly skilled staff! The atmosphere is welcoming and relaxed. Many options for treatment and current technologies. This clinic has everything you need in a one stop shop!"
"Professional service, all staff are very considerate and caring. I was late for my appointment, but it went ahead as planned without judgement! Well deserved 5 stars!"
FAQs on Vestibular Physiotherapy
Unlike traditional physiotherapy which focuses on musculoskeletal impairments, vestibular physiotherapy focus on impairments and dysfunction of the inner ear. While we cannot physically see the inner ear, the system can be assessed through your balance, eye movements via infrared goggles, and symptoms during head positions.
Vestibular assessment: $155; senior pricing is $125
Vestibular treatment: $110; senior pricing is $85
There are many conditions in which vestibular physiotherapy can be helpful such as Benign Paroxysmal Positional Vertigo, Persistent Postural Perceptual Dizziness, Cervicogenic Dizziness, Vestibular Hypofunction, Motion Sensitivity, Vestibular Migraine, Mal de Debarquement and Generalized Dizziness.
While vestibular physiotherapy can be uncomfortable, it should not be painful.
The length of your treatment program/ care will depend on your vestibular impairment. Many patients find improvements after 1-3 treatments, however, this may vary from person to person.
The goal of vestibular therapy is always to improve your vertigo. Please keep in mind that in order to best diagnose, your symptoms will likely be brought on during the assessment.
Encompass Sports Therapy - Coach Hill
Encompass Sports Therapy - Cranston