Traditional Chinese Medicine
in Calgary
Traditional Chinese Medicine (TCM) has several different branches of treatment. Our experts utilize acupuncture, Chinese herbal medicine, and healthy living guidelines when assessing and treating a variety of conditions. We offer Chinese Medicine services at our SE Calgary clinic, which is located in Cranston.
Benefits of Traditional Chinese Medicine
Acupuncture involves the insertion of fine needles into specific acu-points, which triggers the body to heal. These points are often at the intersection of blood vessels and nerves, and by needling them, the body sends an immune response to that area, and/or different areas of the body.
This response can lead to an increase in blood flow, which will carry cytokines, interleukins, oxygen, and other molecules that the body uses to create and nurture new tissue. Acupuncture can help with pain, anxiety, sleep disorders, digestive issues, headaches, fertility, and many other issues.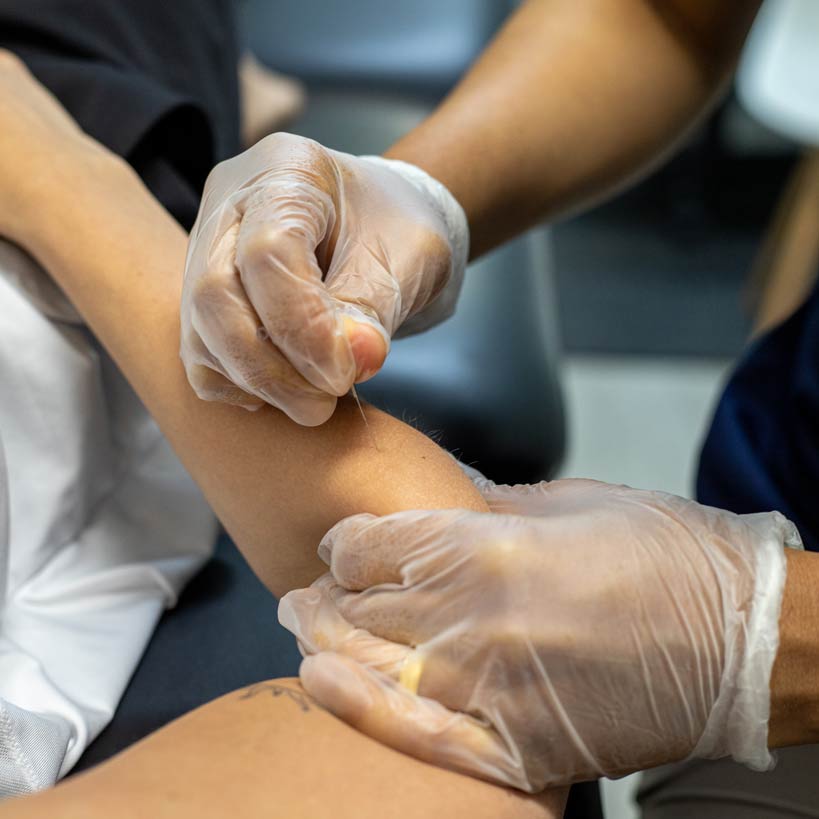 Conditions Treated With
Traditional Chinese Medicine

One-on-One Appointments

Direct
Billing

All-in-One Pricing

Longer
Treatments

Evening & Weekend
Appointments

2 Convenient
Locations

Class 4 Laser + Shockwave

Motor Vehicle
Accident Claims

Private
Rooms

Evidence Informed Therapies
Our Chinese Medicine Experts
"David Rose is just an incredible person who has helped me beyond measure. He makes you feel heard and validates everything you're feeling. I'm grateful to have found him and recommend everyone I can!"
"David Rose has been my acupuncturist for almost a decade. David has treated my sports injuries and other health concerns through acupuncture and Chinese herbal medicine. I also visit David once a month for my overall health and wellness. These regular monthly acupuncture sessions help me sleep better and helps alleviate stress. I highly recommend David because he is knowledgeable and he truly cares for his patients."
"I get Acupuncture with David Rose and it is always an excellent experience. David really knows his stuff and has helped my body heal so many times. Even more he is a very caring and generous person. It's always a treat coming in for a session."
FAQs on Traditional Chinese Medicine
Generally, the practitioner will have a discussion with the patient regarding medical history, pertinent signs, and symptoms, and will perform certain tests that are specific to Chinese medicine to form a diagnosis and treatment plan.
Acupuncture treatment is not painful, but needle insertion can cause minor discomfort. Most patients feel little or no sensation when the needles are inserted. Afterward, some patients experience a sensation of heaviness or a dull ache around the treatment area, which generally resolves very quickly. These sensations are very minimal and not considered to be painful by most patients. Most people feel very relaxed after an acupuncture treatment.
With literally thousands of herbs and formulas making up our meteria medica, we have treatments available for most of the body's systems and pathologies. Specifically, we use herbal medicine to treat musculoskeletal, mental emotional, gynecological, immune, dermatological, digestive, respiratory, reproductive, endocrine, and cardiovascular issues. Chinese herbal medicine is a complete system of diagnosis and treatment.
There is no single answer to this question. Certain conditions can resolve with one bottle of herbs, and certain conditions may require longer-term treatment. We usually request that patients expect 1 month of herbal treatment to judge results.
Aside from the improvement in the patient's signs and symptoms, many patients appreciate a "natural" or nonsynthetic approach to medicine. The side effects of herbal medicine are much less frequent and less severe than with a conventional pharmaceutical approach. Having said that, we are not fundamentalists, and we appreciate that western medicine is invaluable and that herbs and pharmaceuticals can and should complement one another in a safe way. Herbal medicine is also designed to eliminate problems at their root, so in most cases, we don't expect that patients should have to take herbs indefinitely.
Yes. Acupuncture/ traditional Chinese medicine treatment is usually covered under most personal health insurance plans, but please check your specific health insurance to confirm the details of your plan before making an appointment, or contact our clinics for any questions regarding coverage.
Encompass Sports Therapy - Coach Hill
Encompass Sports Therapy - Cranston