Custom Orthotics in Calgary
Custom orthotics are medical devices that put your feet and lower limbs in proper alignment. They are made to improve function and stability and alleviate pain in the feet, legs, and back. At Encompass Sports Therapy, we have experts who can offer you the best custom orthotics in Calgary.
Benefits of Custom Orthotics
Custom orthotics are different from over-the-counter insoles, as they are made from three-dimensional plastic molds of an individual's feet, and created to address each person's unique biomechanical differences. Custom orthotics are made by prescription and are designed to correct specific foot or lower limb conditions.
The benefits of wearing custom-made orthotics include:
– Alleviating pain in the foot, ankle, leg, and lower back
– Maintaining proper alignment of the foot and leg and improving balance
– Providing shock absorption and redistribution of pressure across the bottom of the foot
– Offloading pressure from areas of the foot that may be at risk of developing calluses, corns, and ulcerations
There are many conditions that may benefit from custom fit orthotics including flat/high arched feet, bunions, lower back pain, diabetes, and many other lower extremity conditions.
If you have any questions about custom fit orthotics, book an initial consultation with Dr. Baxter Hickey, or give the clinic a call.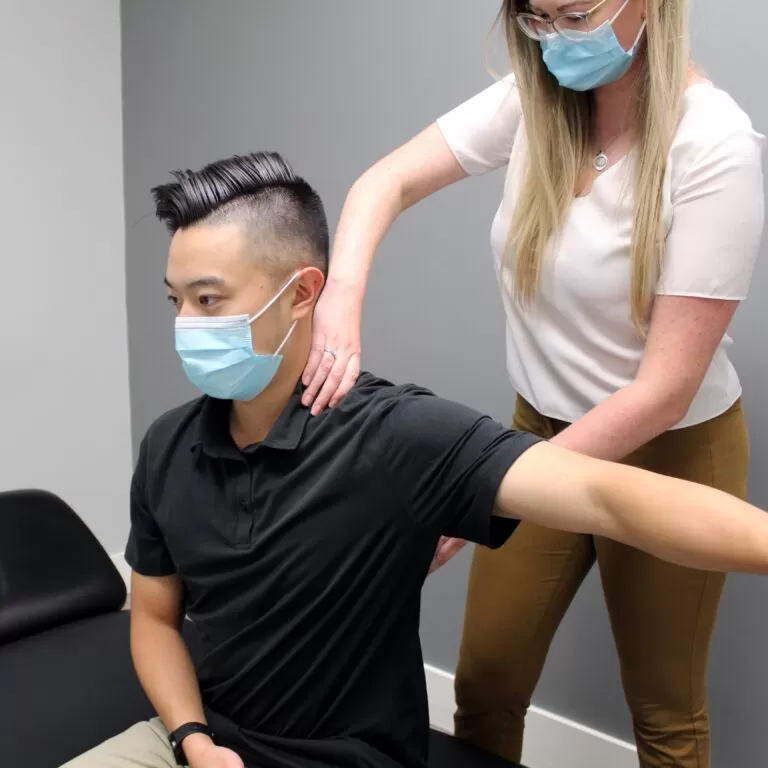 Conditions Treated with
Custom Orthotics

One-on-One Appointments

Direct
Billing

All-in-One Pricing

Longer
Treatments

Evening & Weekend
Appointments

2 Convenient
Locations

Class 4 Laser + Shockwave

Motor Vehicle
Accident Claims

Private
Rooms

Evidence Informed Therapies
Our Custom Orthotics Experts
"It's always a great experience at Encompass Sports Therapy. The staff are fantastic and the clinic is immaculate. Dr. Hickey is superb at his practice. He's extremely professional, knowledgeable, and such a great listener. He has kept me pain free for some time and I look forward to the next appointment."
"I am very grateful for the excellent care and treatment i receive from the physio team. The environment is calm, friendly and i really like the variety of services that Encompass offers. I have recommended this clinic to many friends and family."
"Highly recommend! I've been going to this clinic for a few years now and have had nothing but a friendly greeting when I walk in the door as well as kind and caring service. I've seen chiro, physio and massage therapists whom have all been extremely helpful and helped me get better with whatever is bothering me at the moment. I recommend my family and colleagues to this clinic as they are worth it. Such a great all around clinic with multiple health practitioners for whatever your needs."
Custom orthotics are the personalized option designed to fit your feet and promote better walking, running, and daily living for people with many conditions such as heel pain, knee pain, etc. While custom orthotics are covered by the majority of personal health insurance plans, it is important to check in with your insurance provider for details if you are unsure about it. Most of the time to get custom orthotics you will need a doctor's referral. 
Custom orthotics are effective for treating many foot and ankle ailments, such as heel pain, bunions, hammer toes, plantar fasciitis, Achilles pain, and patellofemoral pain. They are prescribed to address individual biomechanical needs found in the assessment and treat specific functional limitations. They are not a one size fits all solution. Custom orthotics reduce stress on your weight-bearing joints, help improve posture and relieve some of the stress on soft tissues such as tendons, ligaments, and muscles surrounding your joints.
At Encompass, our certified Pedorthist- Erika Schijns at the Coach Hill location, and our Chiropractor- Dr. Baxter Hickey at the Cranston location offer custom orthotics treatment. 
Custom-made foot orthotics may be slightly uncomfortable or painful for the first few days or weeks. Your body needs time to adapt, but most people find that custom orthotics are very comfortable and a great solution over the long term. 
Some people notice a difference within days, but for others, it may take several weeks. It all depends on the foot type and the severity of your foot problem. It is important to give your new orthotics time to work properly. You should use your new orthotics as instructed by your healthcare provider and wear them regularly while exercising or during activity (at least 3-4 hours a day to start with).
Custom orthotics are created by taking a 3D plaster suspension cast where Erika will hold your foot in correct 'subtalar joint neutral' position. That mold is then 3D scanned into the computer where the angles and design elements take place. The design of the orthotics is determined based on your assessment and gait analysis as well as typical footwear choices.
Dr. Baxter Hickey has been using the Structure Foot Scanner™, which is a combination of an Apple iPad, Sensor Scanner, and the AOMS TOT app. With this system, he can take extremely accurate scans of the patient's feet and send them directly to the lab. This means faster shipping time and more accuracy than previous scanners or casting methods for orthotics. Being able to see the foot in a three-dimensional view gives him greater insight and accuracy into how to correct the individual's gait pattern.