Manual osteopathic therapy is a holistic manual therapy that focuses on the assessment and treatment of the body's many diverse systems. Osteopathic treatment can impact the musculoskeletal system, lymphatics, connective tissue, visceral organs, and many other structures. Osteopathy is one of the several expert services offered at our centers in Calgary.
Osteopathy: Benefits & Treatment
Since the origin of a patient's pain and dysfunction is not always local to the pain experienced, the goal of an osteopathic practitioner is to find and treat the root cause of the complaint, thereby restoring mobility and function. Osteopathy is a gentle approach that people in all stages of life can benefit from – from infants to the elderly.
On your first visit, the osteopathic practitioner will conduct a thorough health history to understand the full picture of what is causing your issues. Once a detailed history is performed, the osteopathic practitioner will do a full body assessment to narrow down what needs to be treated. Your practitioner can then use a number of approaches such as joint mobilization, myofascial release, craniosacral techniques, and visceral manipulation. Treatment tends to feel gentle, and patients are usually very relaxed by the end of the appointment. Make sure to bring comfortable clothing to wear for ease of movement during the assessment and treatment.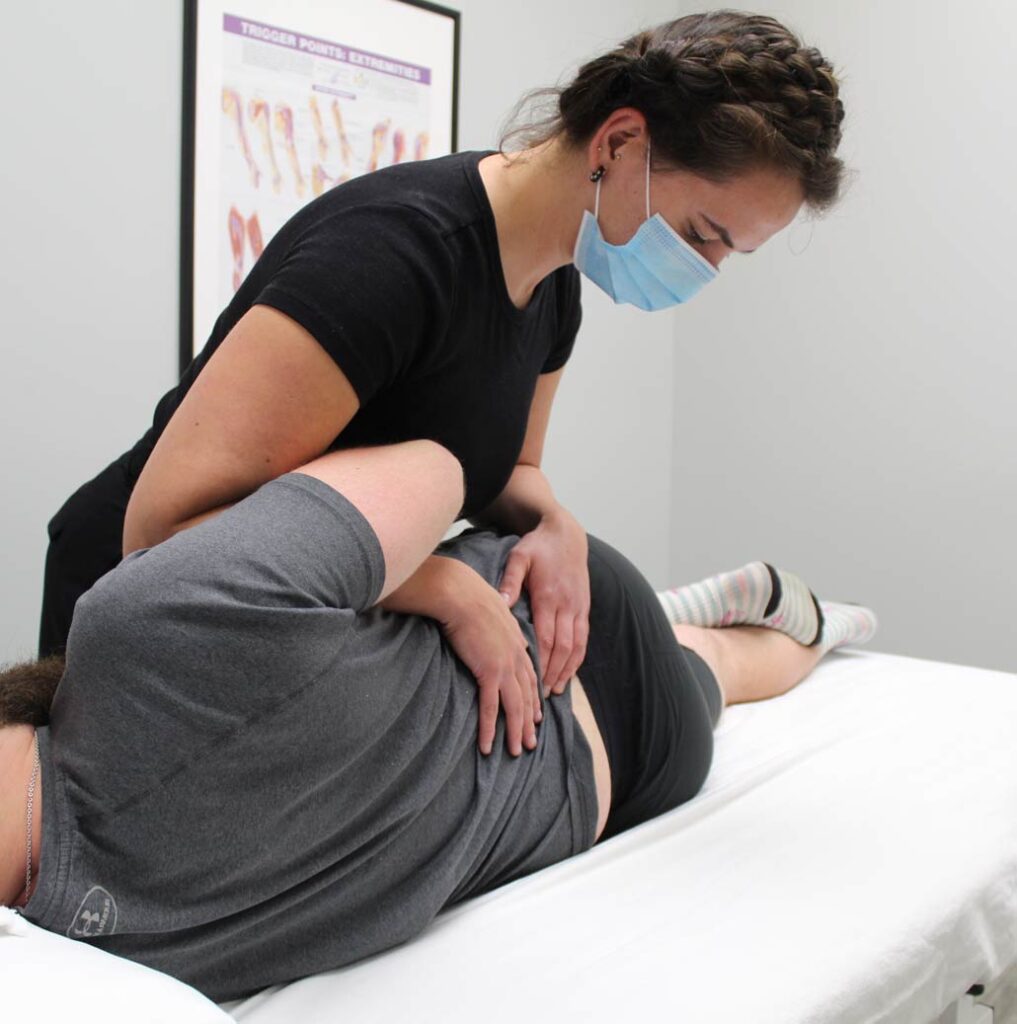 Conditions Treated With
Osteopathy

One-on-One Appointments

Direct
Billing

All-in-One Pricing

Longer
Treatments

Evening & Weekend
Appointments

2 Convenient
Locations

Class 4 Laser + Shockwave

Motor Vehicle
Accident Claims

Private
Rooms

Evidence Informed Therapies
"I have been seeing Ocean Burns for Osteopathic Treatment since February 2022; for a variety of reasons. Primarily due to 3 c-sections and the amount of restrictive scar tissue as a result. The improvements we have noted in my body, movement and stress management ability have been significant, in such a short period! She is kind, professional and extremely knowledgeable in her field. If you are looking to add to your modalities or try a different field of bodywork, please check out if you are a fit with Ocean! Her hands on work can be life changing"
"I have had 2 - Massage with an Osteopathic Approach - treatments with Ocean Burns. I was interested in trying something different after my neck/cervical spine tightness & dysfunction had progressively gotten worse since my 2011 neck surgery. Ocean is very knowledgeable and explains what she is doing quite well. At the conclusion of each treatment, we have a set plan - including monitoring progress so that we know what will be done next treatment. After only 2 treatments, I'm noticing systematic improvement - not only just the oft cited "temporary relief" and I am looking forward to working with her more!"
"I live on the opposite end of the city, but it is totally worth the drive. Love the online booking feature, respectable prices, and to say that the team is absolutely wonderful is an understatement. I've booked massages with Ocean Burns, and Jasmine Fleming, and plenty of chiropractic work with Dr. Mike Belding. I've recommended a few friends to this establishment and will continue to do so with others."
Appointments for adults are 50-60 minutes long for the initial and follow-up appointments. This allows the osteopathic practitioner time to do a thorough assessment and treatment.
For children, the initial is 45 minutes long, and the follow-ups are 25-30 minutes long.
When you first arrive at the clinic, you will be asked to fill out a medical history questionnaire. Your osteopathic manual therapist will take a detailed case history at your initial consultation. During your appointment, the osteopathic manual therapist will perform a thorough assessment and diagnose your condition. Following this, your practitioner will discuss management options and provide appropriate hands-on treatment. 
Osteopathic treatments tend to be quite relaxing, however, there might be a few spots that feel tender when treated. This is normal. 
Osteopathic care is safe for everyone. Osteopathy can benefit a wide array of people, from infants to the elderly.
The number of treatments required tends to be a case-by-case basis. For some issues, osteopathy can resolve your concerns within 3-4 treatments, but treatment plans can be longer. The osteopathic approach targets the root cause of your issues, so it might take time to resolve more superficial layers to get to it.
Osteopathic treatment is covered under insurance. Most insurance companies do not allow clinics to direct bill on your behalf, but most insurance plans will have coverage if you submit your receipt on your own.